Mewtwo Birthday Cakes: One Pokémon that was produced through genetic engineering is Mewtwo. But while human science was able to develop this Pokémon's body, it was unable to give Mewtwo a sympathetic heart. Years of horrifying gene splicing and DNA engineering research based on Mew led to the creation of Mewtwo. It is regarded as one of the strongest Pokémon that has ever existed and is claimed to have the most callous heart of all Pokémon, lacking empathy and instilling dread in its foe with its icy, luminous eyes.
Mewtwo is a Pokémon clone. It is a humanoid, bipedal Pokémon with some traits of a cat. With a long, purple tail, its coloration is mostly gray. Its eyes are purple, and it has two short, blunt horns on top of its head. Its neck is omitted as a tube runs from the rear of its head to the top of its spine. Its shoulders and chest are well-defined and have a breastplate-like appearance. Every hand and foot has three digits with spherical tips. Its tail begins thickly at the base and becomes thinner until it ends in a little bulb. In this post, I have included more than twenty Mewtwo birthday cake ideas and designs: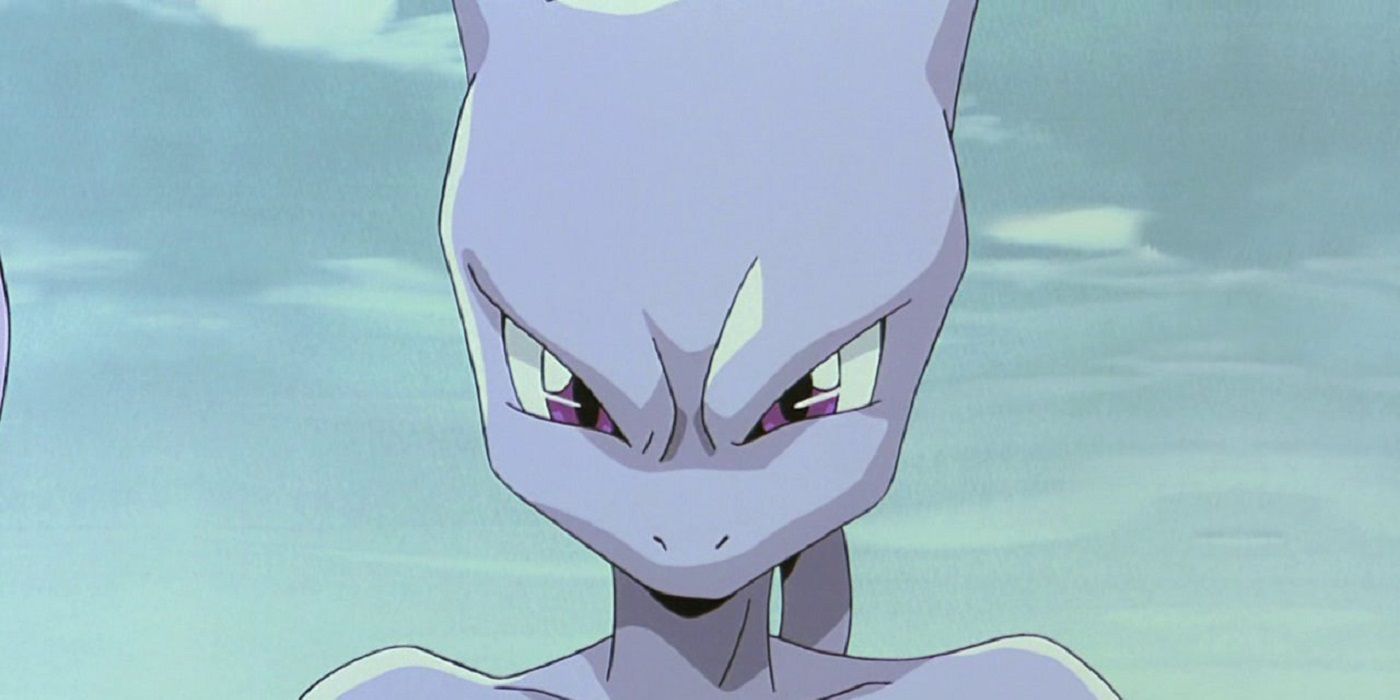 Mewtwo Birthday Cakes
Our first Mewtwo birthday cake shows individual edible figures of Mewtwo and Greninja placed on top of the cake, which are intricate designs made out of frosting. These details highlight just how much time and effort went into creating this beautiful dessert. It is a perfect example of the artistry and attention to detail that went into creating a truly special dessert for Mewtwo (or Pokémon) fans.
2. This is a Mewtwo birthday cake that also includes the three Kanto starter Pokémon at the bottom of the cake. The cake is decorated with bright colors and intricate details, making it look like a work of art. The overall color scheme gives off a cheerful and playful vibe, perfect for a Pokémon birthday celebration.
Also Read: Chikorita Birthday Cakes
3. Mewtwo hits it all out in this purple-themed birthday cake that matches his characteristics. You can also see Mew next to him, plus several Masterballs placed on the cake. The ganache frosting on the cake looks very tasty and it is certainly a mouth-watering delight for your special birthday kid.
4. This Mewtwo birthday cake captures not only an aesthetically pleasing dessert but also showcases impressive baking skills through techniques like icing piping and using different types of frosting for added flavor complexity. Whether you're young or old, anyone would love receiving such an intricately designed classic Pokémon treat for their special day!
5. The sides of this Mewtwo birthday cake are adorned with royal icing designs in shades of purple and yellow, adding to the overall magical feel of the dessert. A blue and white swirly lollipop can be seen sticking out from one side, adding an extra touch of fun to the already playful design. In front of the cake stands a Mewtwo figure that matches perfectly with the theme, representing the overpowered Pokémon in a great way.
6. This is an indoor scene featuring a colorful Mewtwo birthday cake. The dominant colors in the cake are purple and blue, while the background is primarily grey. The cake itself has been expertly decorated with intricate designs and features a flat Mewtwo on the front side. The cake is sitting on a painted plate that matches the design of the cake, adding to the whimsical feel of the scene.
7. The size of this Mewtwo birthday cake is quite impressive; it looks large and wide. It seems perfect for special occasions like birthdays due to its grand appearance. Some may even mistake it for being professionally made due to its flawless execution. However, upon closer inspection, you can see that this masterpiece was created indoors by someone with exceptional baking skills. Have fun and enjoy this special Mewtwo birthday cake with your lucky ten-year-old birthday kid.
8. This could truly be one of my favorite Mewtwo birthday cakes. This cake is a high-quality masterpiece of delight with a flat and impressive Mewtwo design on top. The cake is placed on a white surface, creating a striking contrast between the white frosting and the dark background.
9. This celebration shows a Mewtwo birthday cake with a Mewtwo figure on top, surrounded by various other objects and decorations, such as the purple energy card. The cake itself is round and covered in blue frosting, with white frosting used to create tiny stars on the side of the cake. Another Pokémon card with a bell design can be seen next to the Mewtwo, along with a collectible coin figure near it.
10. In this delight, we see a stuffed Mewtwo figure holding a slice of cake in its paws. The Mewtwo figure is positioned next to a birthday cake of Mewtwo's face with purple and white frosting. The plush Mewtwo has long floppy ears and big, round eyes, giving it an adorable appearance.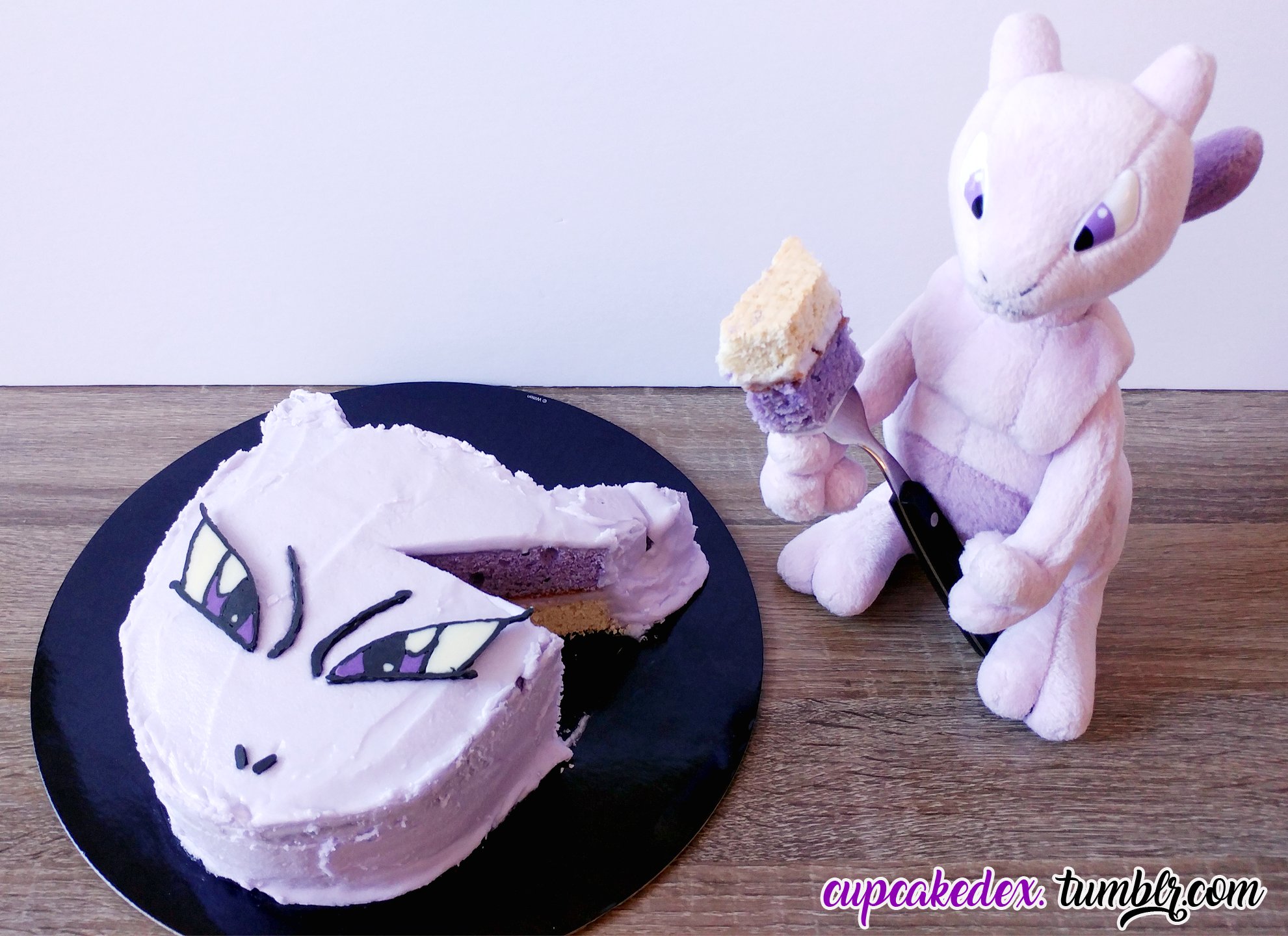 11. An edible Mewtwo figure is standing on a smaller-sized Pokémon birthday cake that has red, blue, and yellow stars on the side of the cake. There is also an edible Pokéball figure next to Mewtwo that looks impeccable and almost exactly like a real Pokéball. Enjoy this awesome birthday cake with your lucky birthday kid.
12. For a special ten-year-old birthday kid, the level of detail in the decoration of this cake is truly impressive. From the intricate design on the Mewtwo's face to the perfectly piped details around the edges, it is evident that great care was taken in its creation. The use of different shades of gray and purple adds depth to the overall design while still maintaining an overall minimalist look.
13. This creation captures not just any ordinary Mewtwo birthday cake but rather an intricately designed work of art that would surely impress any lucky birthday kid enough to receive it for their special day. From its perfectly smooth surface to its carefully crafted details like royal icing borders and delicate name wording made from buttercream frosting, every element has been meticulously planned out to create an eye-catching display.
14. The attention to detail in this Mewtwo birthday cake is evident, as even small elements such as lightning figures and stars are carefully crafted out of sugar paste and placed around the cake. A Mewtwo figure can also be seen on top of the cake, adding an extra touch of whimsy to this already magical creation. The use of bright colors such as reds, yellows, and whites makes this dessert visually appealing and perfect for any celebratory occasion.
15. This is a birthday cake entirely composed of a pale purple Mewtwo face. Mewtwo's expression appears to be content, as it is the center of attention, made of layers of frosting and decorations. This is further emphasized by the use of pale purple for both Mewtwo's fur and nose, making it stand out against its black background.
16. What an impressive birthday cake this is! This is a beautifully decorated birthday cake featuring drawn-on designs of Mewtwo and Mew from the 1st generation of Kanto Pokémon. The cake was made using sugar decorations or icing techniques commonly used in professional cake decorating supply stores or bakeries.
17. A close-up of this Mewtwo birthday cake reveals more details about this delectable dessert; you can see how moist and fluffy each layer looks through its purple exterior. The yellow star-shaped designs add some contrast against all these pastel colors while casting a shadow on their white surface.
18. Let's celebrate Christopher's ninth birthday party with this extraordinary birthday cake featuring edible figures of Mewtwo and Lucario. The main focus of the design is the two Pokémon figures that sit atop the cake: Lucario is holding a blue ball, while Mewtwo is holding two black balls. These figures add an element of playfulness to the overall look of the cake.
19. What an impressive, starry, and large rectangular Mewtwo birthday cake this is. In addition to the main decoration, there are also smaller details, such as blue stars and yellow Pikachu faces, scattered around the surface of the cake. These blue stars and yellow Pikachu faces have been carefully crafted out of icing and add a whimsical touch to the overall design. Enjoy this extraordinary treat with your lucky birthday kid to the maximum extent.
20. If you are looking for a unique Mewtwo-designed birthday cake, then this could be the correct option. A large edible figure of Mewtwo made out of sugar paste is in the center of the cake. Mewtwo is holding a large, dark blue and black ball that is also edible and quite tasty. I am 100% sure your birthday kid will love it.
21. Not only does this Mewtwo birthday cake have an extraordinary visual appeal, but the cake also has sentimental value as it appears to be customized for a special kid's birthday celebration. Overall, this cake masterpiece captures both creativity and sentimentality through its depiction of an expertly crafted Mewtwo figure surrounded by elements that evoke joy and celebration.
So which of these extraordinary Mewtwo birthday cakes did you appreciate the most? I honestly think that cake number eight was pretty sweet. Cake number sixteen would be in second place.