The Simpsons Birthday Cakes – The Simpsons is an American TV Series created by Matt Groening in 1989. It is a depiction of an ordinary American family.
The series has been running for a long time and is both popular and a bestseller. The main characters of the Simpson family are Homer, Marge, Bart, Lisa, and Maggie. For today's post, you will find more than 50 The Simpsons birthday cake ideas and designs:
The Simpsons Birthday Cakes
1. Looking at our first cake, is a spectacular traditional square-shaped cake featuring the Simpsons family members.
2. Next we have a slick-looking and professionally done round-shaped cake with edible figures of Homer, Krusty, Bart, and Mr. Burns. It is great for your nine-year-old. 
Also Read: Mickey Mouse Birthday Cakes
3. Here is another traditional rectangle-shaped birthday cake with the Simpsons family members printed on top. Your twenty-year-old will love it!
4. This square-shaped cake is for your twenty-nine-year-old and has a sharply printed gargling Homer Simpson printed on top.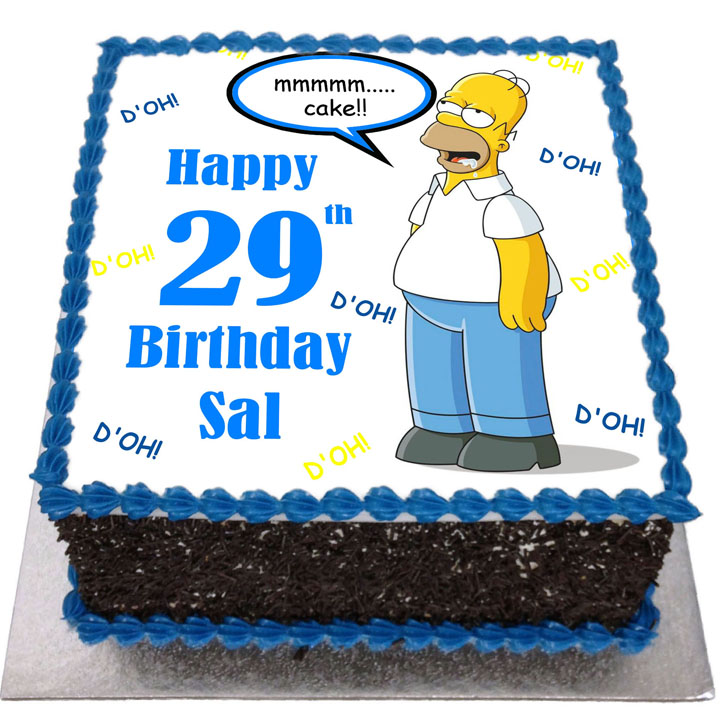 5. The non-edible figures on this birthday cake are amazing and lively. It is a lot to take in and will make the birthday recipient happy.
6. The pink donuts with sprinkles on this birthday cake are irresistible and a great addition to the cake.
7. An impressive three-tier birthday cake featuring all five Simpsons characters. Bart is surely having a hard time.
8. This birthday cake will impress the thirty-seven-year-old and looks fantastic. The edible Duff beer can and sprinkles are a great touch.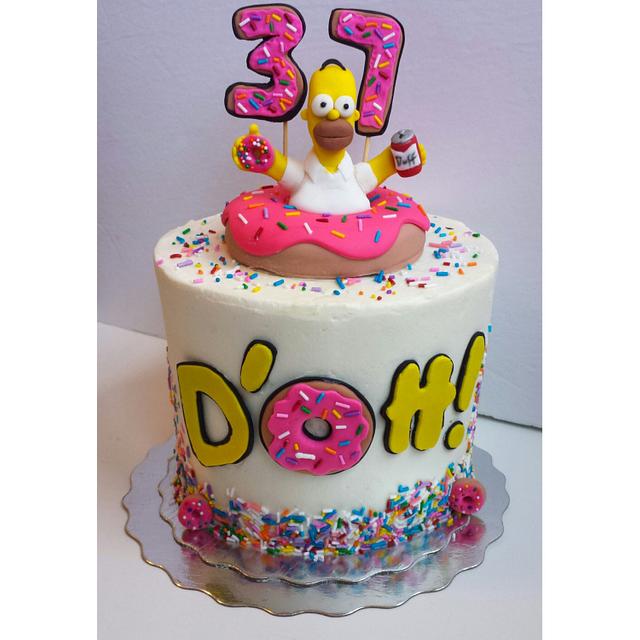 9. This two-tier birthday cake is for your six-year-old and has an edible couch on top. The edible Simpsons figures are not too bad.
10. Another two-tier birthday cake featuring non-edible Simpsons characters. It is great, sharp, and pleasing to look at. 
11. Your twelve-year-old birthday boy will appreciate this blue traditional and square-shaped birthday cake.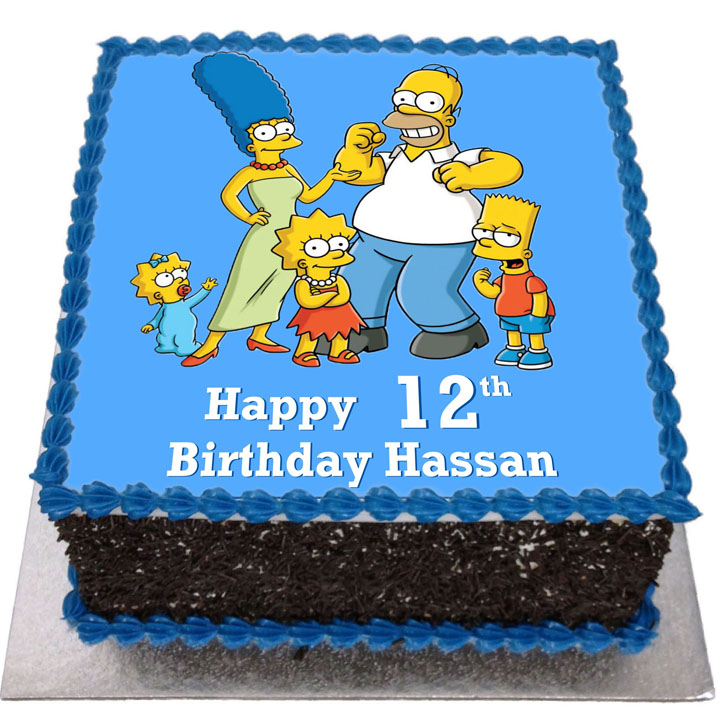 12. This is a simple and starry birthday cake that almost looks like a hat. The edible Bart Simpson portrait on top is placed successfully.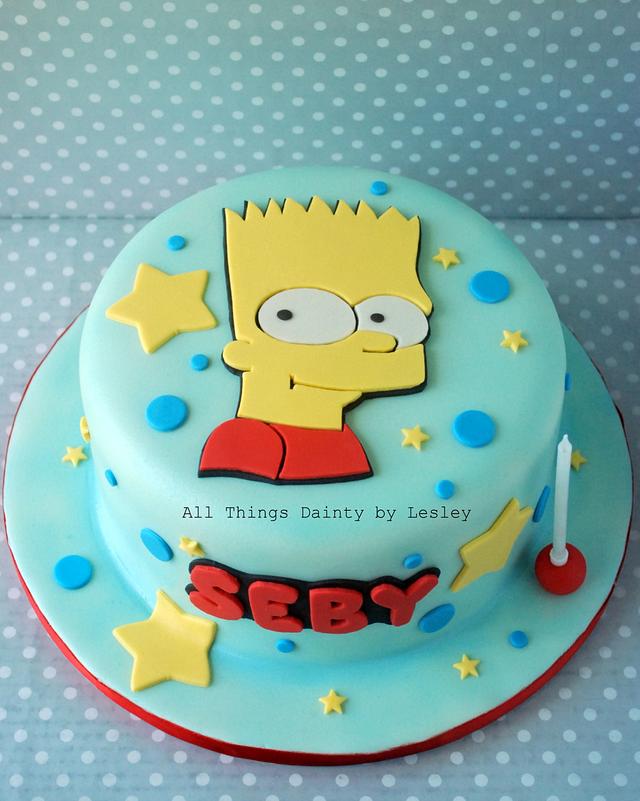 13. A flurry birthday cake that is shaped like Bart Simpson with a skateboard. It is original for those who have never seen such a cake.
14. An animated rectangle-shaped traditional birthday cake for your fifteen-year-old kid. It looks easy to make!
15. Wow! Look at this giant pink donut with Homer Simpson popping out of the center and having a bite out of it. 
16. This original-looking birthday cake has Bart Simpson peeking out from the top of the cake. The house looks simple and comfortable. 
17. Your twenty-three-year-old beer-loving birthday recipient will appreciate the oozing yellow ganache placed on the top of the cake.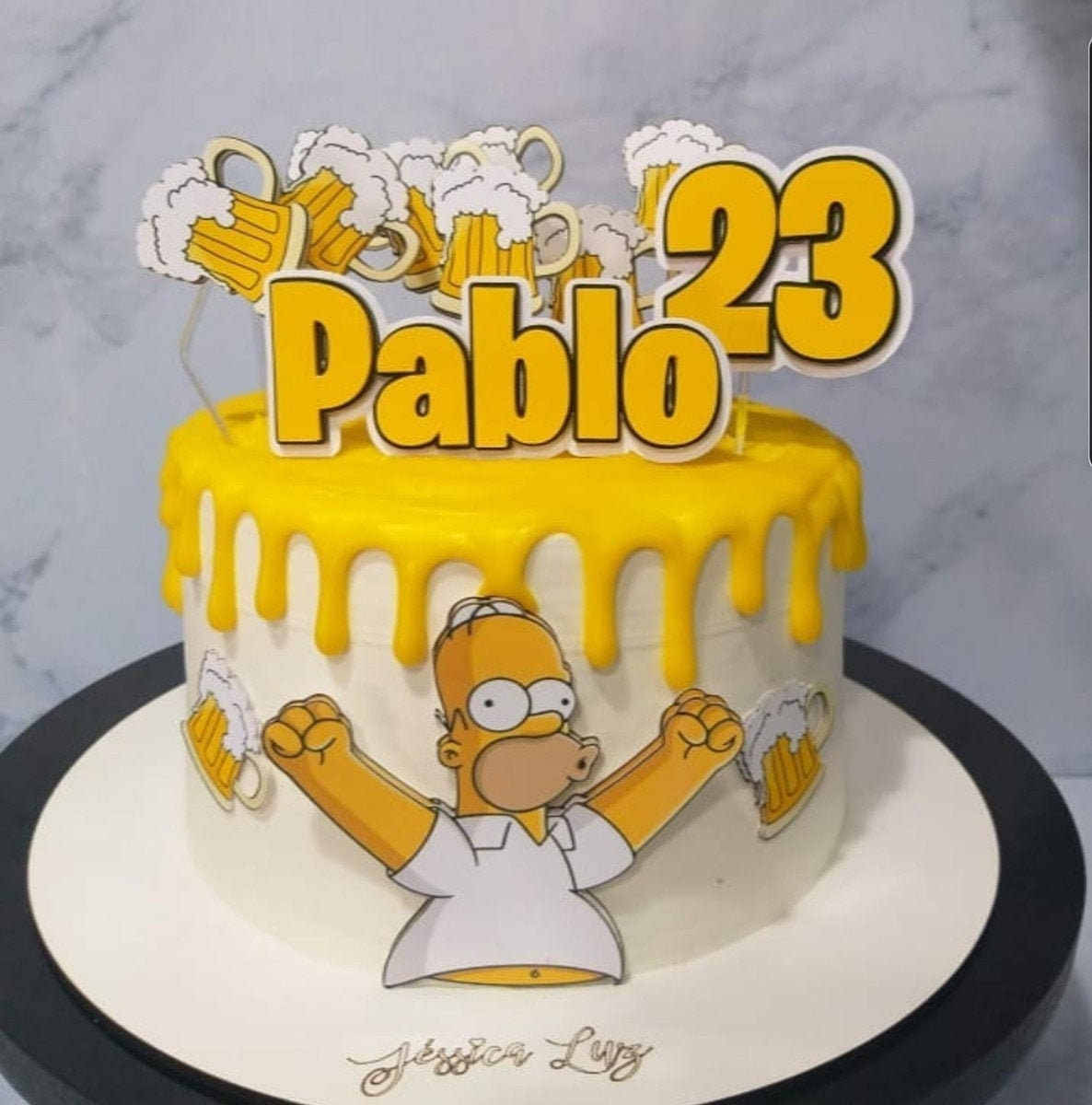 18. Another impressive and unique birthday cake that has a large edible donut and printed edible figures of Bart and Homer at the bottom. Your ten-year-old birthday boy will say wow.
19. Found in a Simpson's store, this three-tier birthday cake took time to make and had an impressive Homer Simpson sitting on a donut with lightsabers on top. 
20. The word "D'oh" can be deliciously enjoyed on this birthday cake and will be a delightful treat for the thirty-seven-year-old birthday recipient.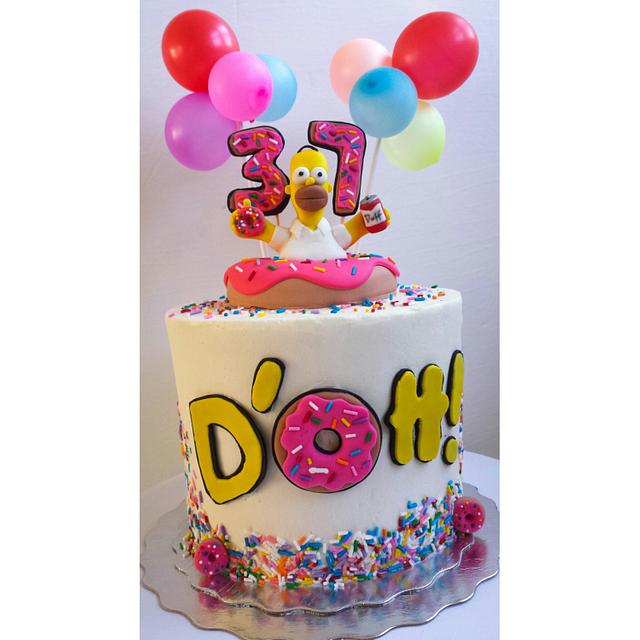 21. A large donut with a raspberry color is sitting on top of the cake with a glazed finish. It captures the attention of the lucky twelve-year-old kid.
22. The colors work vividly together on this two-tier birthday cake and an edible Santa's Little Helper figure is included on top.
23. Your nine-year-old birthday kid will like this simple cake featuring the Simpsons family members enjoying a TV show.
24. A cheerful-looking birthday cake that has an edible Homer Simpson figure laying on top of a pink donut with sprinkles. Delicious!
25. The blue and green edible circles on the side of this birthday cake give an original and calming touch to the cake.
26. Here we have a traditional rectangle-shaped birthday cake with the iconic Simpsons family home printed on top. Can't wait to try the blue ganache on the side.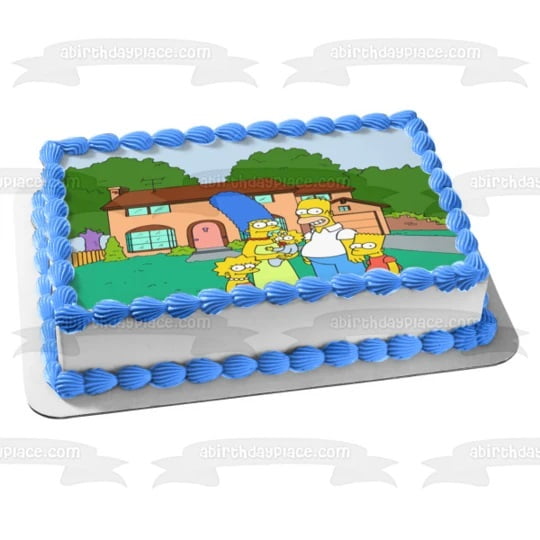 27. Another delicious large-shaped donut with Homer Simpson popping out from the center. The white icing looks very tasty.
28. A smaller treat that looks as tasty as ever, especially the yellow base. The edible clouds at the bottom will also impress the birthday kid.
29. This three-tier birthday cake is crafted very carefully and several edible figures are immaculately placed.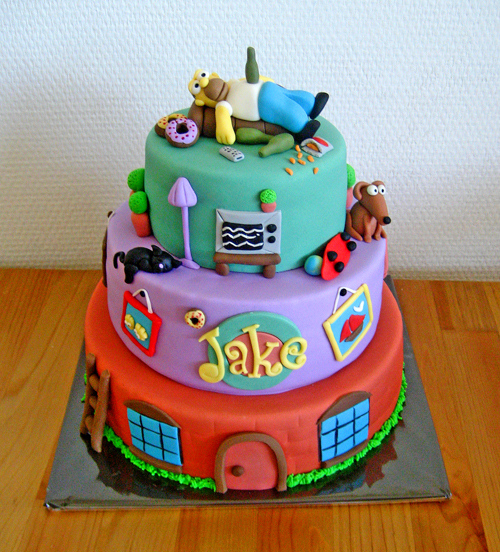 30. Non-edible figures of the Simpsons family are having a great time with this uniquely crafted birthday cake. Note the edible boat painting figure on top.
31. Wow, an edible Mojo figure is laying on a pink donut as a birthday cake design. It is impressive to look at and the numerous Duff beer cans are a great addition.
32. Make your thirty-year-old birthday recipient proud with this slick and original birthday cake featuring an edible Plopper figure at the bottom.
33. You can always enjoy a birthday cake that has several pink Simpsons donuts placed at great angles along with macarons and a brown chocolate ganache dripping from the side.
34. If your birthday kid likes Twinkies then this generous birthday treat will make him happy. Enjoy the simple and animated Homer Simpson face.
35. A spectacular thirty shape birthday cake that looks excellent and is very pleasing to the eye. Woohoo!
36. A smaller pink birthday cake will make your seven-year-old birthday girl content. Note the starry touch on the side.
37. Make your eleven-year-old birthday boy quintessentially amazed with the Simpsons family display on top.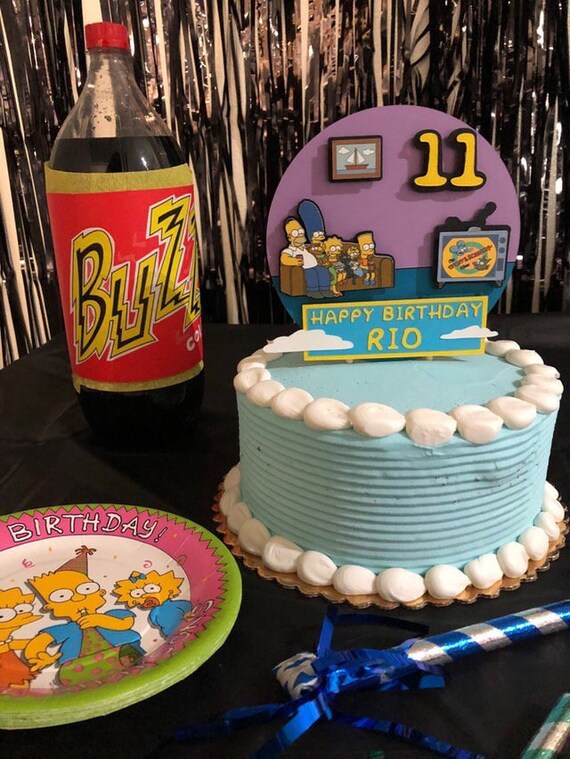 38. This irresistible birthday cake includes a sharply detailed and cute donut figure on top. It is finished to the finest extent.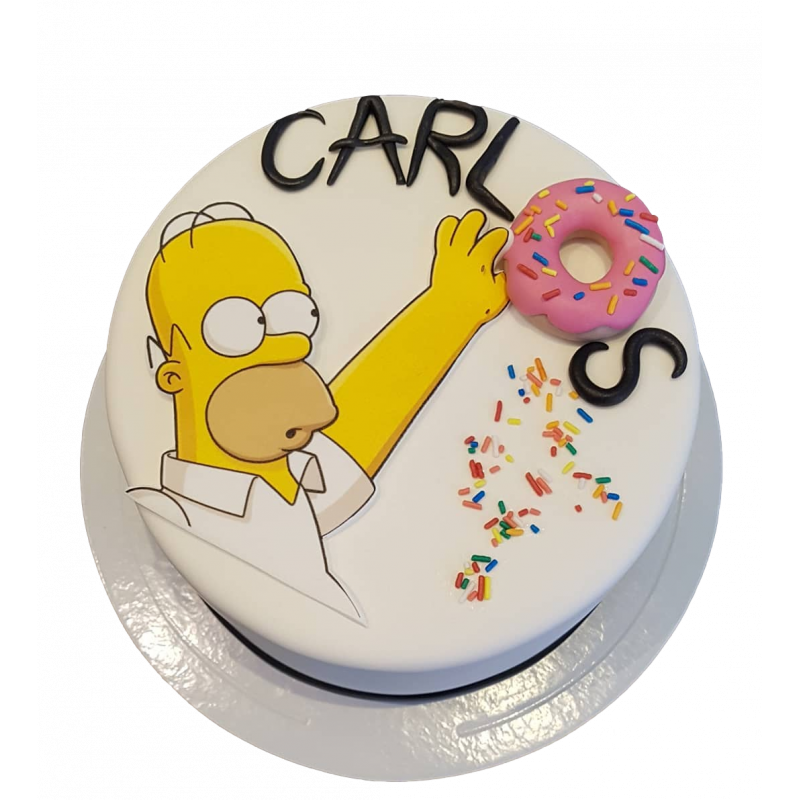 39. Your twenty-eight-year-old will enjoy the relaxed colors and finely detailed edible figures on this birthday cake. Note the television figure in the bottom center.
40. Two lucky birthday recipients can enjoy this extraordinary birthday cake and enjoy its starry features.
41. A fluffy and packed birthday cake for a forty-year-old that will surely leave a great taste thanks to the whipped cream that looks like beer brew.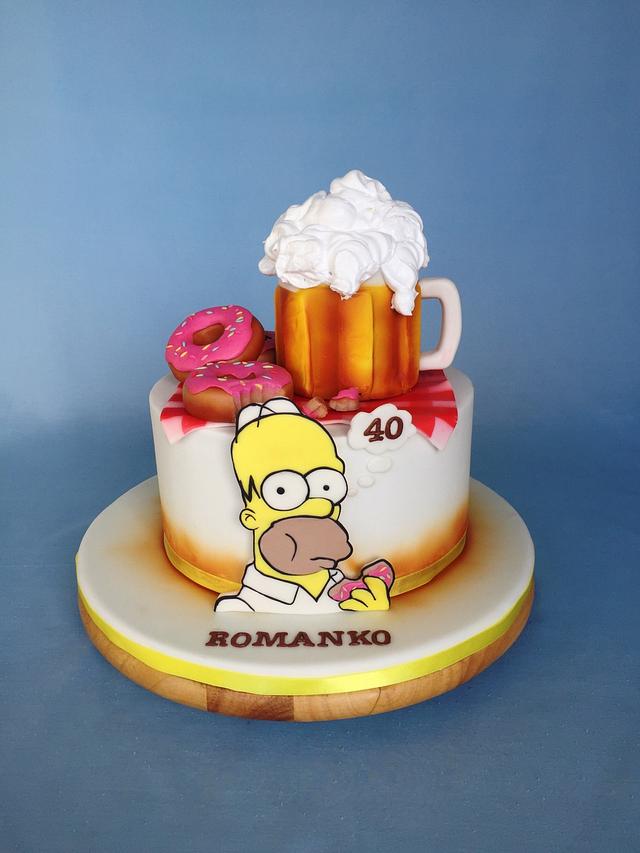 42. A sharp and detailed two-tier birthday cake featuring the town of Springfield. Note the Ned Flanders figures on the bottom left.
43. Wow this birthday cake can be a lot to take in and the three pink donuts on top with sprinkles are striking.
44. Your nine-year-old may thoroughly enjoy this Bart Simpson birthday cake, especially the bite-sized edible donuts at the bottom.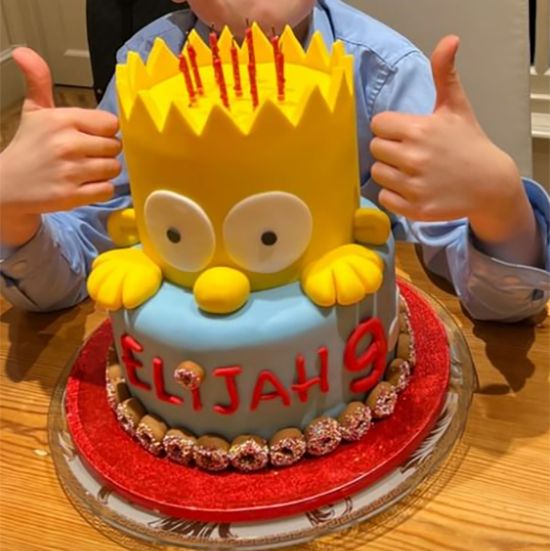 45. Keep it simple and slick with this two-tier birthday cake featuring Homer Simpson and Bart sitting on a couch at the top of the cake. Your eight-year-old birthday boy will smile.
46. The orange bottom on this birthday cake gets your attention and leaves a nice touch along with the iconic Simpsons family logo printed on top at the side.
47. A three-tier birthday cake that is drenched with pink donuts, macarons, and the chocolate ganache will be an awesome treat for your birthday kid.
48. Make your birthday girl happy with this generously decorated birthday cake that has many flowers and sprinkles.
49. A very lucky ten-year-old baby girl will thoroughly enjoy this two-tier birthday cake and enjoy its many edible features.
50. Don't forget the gorgeous cupcakes featuring Simpsons family members and Santa's Little Helper. Enjoy the treats with your birthday kid.
51. A super and fluffy round birthday cake featuring Bart Simpson is extraordinary to look at and will satisfy your birthday kid's big expectations.
52. Bart Simpson and his skateboard are placed just right at the top of this light blue birthday cake. Your birthday boy will agree the cake is cool.
So, which The Simpsons birthday cake did you like the most today?